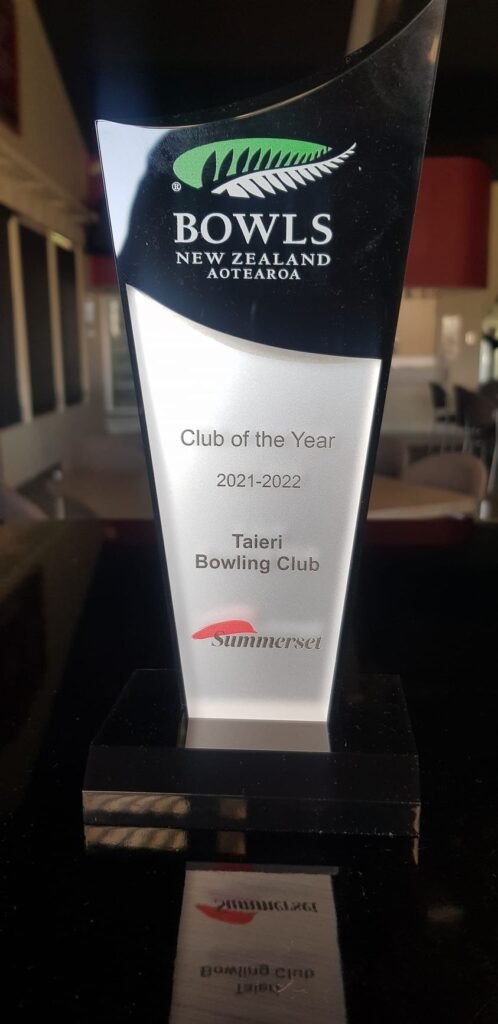 Taieri Bowling Club : Club of the Year 2022
bowlsnewzealand.co.nz/news/taieri-bowling-club-club-of-the-year-2022/September 10, 2022
Once upon a time, the Taieri Bowling Club was just another club in the greater Dunedin area.
Sure, the club had hosted the Nationals a number of times, but like many bowling clubs throughout New Zealand it potentially waxed and waned between thriving and surviving over the years.
Fortunately for the club, for the Dunedin bowls centre, and for the bowls community throughout the country, the club has thrived. And a club that might have once been regarded as ordinary, has today become something extraordinary. So much so that it has been awarded Bowl's New Zealand's Club of the Year in 2022.
Unfortunately, the formula to success hasn't been something that's 'bottlable'. But Club Manager, Rob Gibson, does have some great insights as to why the club is enjoying its time in the sun.
"I think first and foremost, we're lucky where we are," says Rob. "We're a big city club located in its own community of Mosgiel. We're only 15 kilometres from the Dunedin CBD, and highly connected since the motorway was completed in 2003. But there's still that big hill between us and the rest of Dunedin. So the result is that the 15,000 Mosgielites still regard themselves as living in a standalone community."
Indeed, the people of Mosgiel or 'Mollywood' (because of the Mosgiel sign on the hill overlooking the town) or 'The Pearl of Plain' seems to have more affinity with the Taieri Plains than the metropoles over the hill.
"It means that it is easier to nurture a sense of community," continues Rob, "And rather than just being a bowling club, we're more and more becoming a community-based club for all activities in Mosgiel, rather than just a club for lawn bowls."
"The club is now home to 8 or 9 organisations in Mosgiel … Petanque Taieri; Mosgiel Darts; Silver Peaks Country Music Club; Silverstream Women's Club Mah-jong; Taieri Fit and Fun and more. And we're expecting and welcoming more to join us."
"The result is that there's always something going on here. We're open 365 days a year … even Christmas Day. Rather than spending more time being closed rather than open, we spend more time being open rather than closed … not just during the day, but in the evenings … not just during the weekend but on weekdays … and not just during summer but over winter as well."
That all has two huge upsides for the club: more members and more finances.
"We've got a full-paying bowls membership of 165," says Rob. "So even as a bowling club, we're well-supported. But there's also the same number of members again playing Petanque and Darts, as well as the Mosgiel Bowling Club using our facilities as members. We're looking at something more than the 360 members in total … and climbing."
That enviable membership converts to enviable finances.
"Everything starts to snowball," says Rob. "We not only get the usual income from subs, but because the club is used so much, income from the bar increases. In fact, $30,000 more than we had budgeted this last year. It also means that we get more sponsors wanting to sponsor the club with more sponsor dollars."
"And because the community feels they 'own' the facility, we get substantial income from events held here … big birthdays, milestone anniversaries, funeral wakes, Christmas parties and the like. Last year we hosted 33 Christmas parties and BBQs."
But it's all not collecting money for the sake of it. Having a healthy income means that the club is not standing still … and is continually reinvesting to meet members' and potential member's rising expectations of what a great club should be.
"We're fortunate to have a great executive here at the club," says Rob. "They bring a lot of business skills to the club, rather than just the desire to play bowls."
As the full-time, paid manager of the Taieri Bowling Club, Rob Gibson is one of the initiatives the committee took more than 14 years ago.
"The problem we have in many bowling clubs, and most sports clubs for that matter, is that they can never get any sustained traction simply relying on voluntary resources. I've been able to do many things our own member volunteers couldn't devote the time to do. And it's worked. The role has not only become more than self-funding, but has given us a resource to help develop where we want to be in the future."
"I hasten to add though," laughs Rob. "It's not about me!"
That may be so. But along with the members and the committee, Rob can quite rightly take some credit for Taieri Bowling Club winning 'Club of the Year' in 2022.
And some credit for inspiring other bowling clubs throughout New Zealand to head down the same path in the years to come